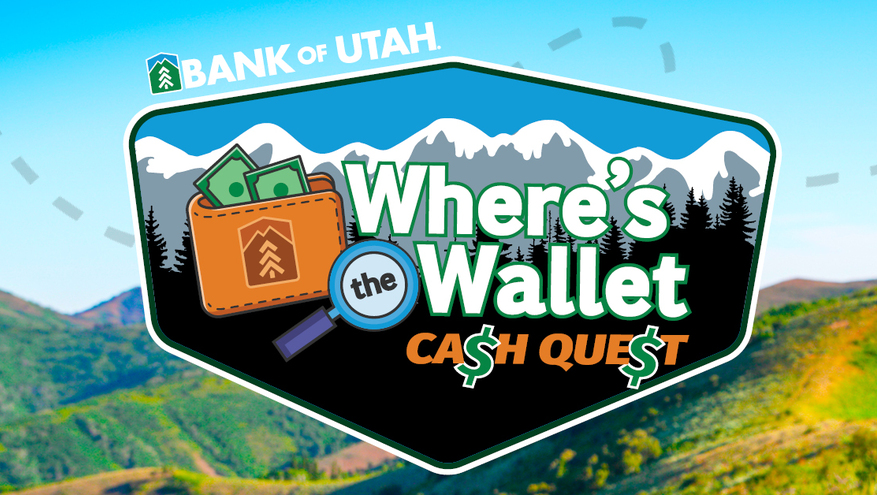 "We've hidden a wallet deep in the woods, help us locate it to keep all the goods.
Find a bank branch to get your first clue, by scanning the QR that's closest to you.
Watch closely each week to know when clues drop, follow on social to be at the top.
$20,000 is the prize that you seek, give half to a charity and the other half you keep."
Join us for our first Where's the Wallet Cash Quest!
We've hidden a wallet somewhere in Utah for you to find. Starting August 7, begin the search by scanning our QR code poster, which you can find at your nearest Bank of Utah branch. This QR page will be where all our clues are posted so be sure to bookmark it. (Note: QR poster is scannable from outside the building so questing can happen at any time of day)
Follow us on social media to know when new clues are added to the page. We will also post the occasional bonus clue so watch close! The lucky winner to find our wallet will receive $10,000 to keep, then they will be given the opportunity to allocate an additional $10,000 to a local charity of their choice from an approved list. So don't delay, head to your local branch on August 7 to start the search!
Good luck on your quest!
Additional rules and regulations are as follows:
You must be 18 or older to participate.Bank employees and families of employees are not eligible to win.Wallet will not be hidden on private property. Please remember the "leave no trace" rule as you search. You will have cell service.The donation of $10,000 will be made in the winner's name on behalf of Bank of Utah to a charity of the winner's choice from an approved list of organizations. This donation will not be tax deductible.Prize money will be deposited into a Bank of Utah account for easy access and transfer.Bank of Utah is not responsible for taxes related to winnings.By accepting a prize, the winner consents to the use of his or her name, likeness, voice, opinions, biographical information, hometown and state and/or other personal information in advertising without additional compensation.No rock climbing, digging, or bushwhacking is necessary. Bank of Utah is not responsible for any personal claims of injury, death, loss, expense, or damages arising from participation in this campaign.Bank of Utah reserves the right to disqualify any individual it believes or finds to be tampering or violating the official rules, or in any unsportsmanlike or disruptive conduct. Please be kind to others who are searching. Any attempt by any person to deliberately damage any web site or undermine the legitimate operation of this campaign is a violation of criminal and civil law.Any and all disputes, claims and causes of action arising out of or connected with the prize awarded shall be resolved individually, without resort to any form of class action.